A wonderful turnout at the Greater Oak Brook Chamber of Commerce and Economic Development Partnership BUILDING FAIR presented within the Commerce Plaza buildings in Oak Brook yesterday.
Chamber Member businesses represented themselves in the lobby serving food, giving away raffle prizes, and educating tenants in the Plaza buildings about the innumerable resources available to them right here in Oak Brook!
Our next building fair is in Oakbrook Terrace on August 2. If you are a Chamber Member and are interested in attending please let us know!
Thank you to our participants and for the folks at Zeller Management, Inc. for allowing us to visit your building!
the Outpost Mexican Eatery Tijuana Flats Tex-Mex Pace Suburban Bus Fogo de Chão Family Bridges/Lazos de Familia Anna Kamilis Pinstripes Daniella Les Erika Oliver Jenifer Fabian People's Resource Center Child's Voice Kate Bousum, CFRE Kristina Bedell Gibsons Restaurant Group Kristina Gromala American Lung Association Marlene Ceja DuPage Pads Le Méridien Chicago – Oakbrook Center Melanie Pasillas Paula Lopez Puttshack Oak Brook Park District Rachel Jones Rebecca Von Drasek Village of Oak Brook, Illinois Reid Foltyniewicz Oak Brook Police Department, Illinois Bridget Karnick Jenny Stanko Dave Carlin Tamryn Hennessy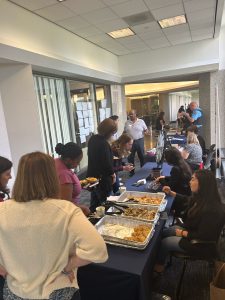 ---