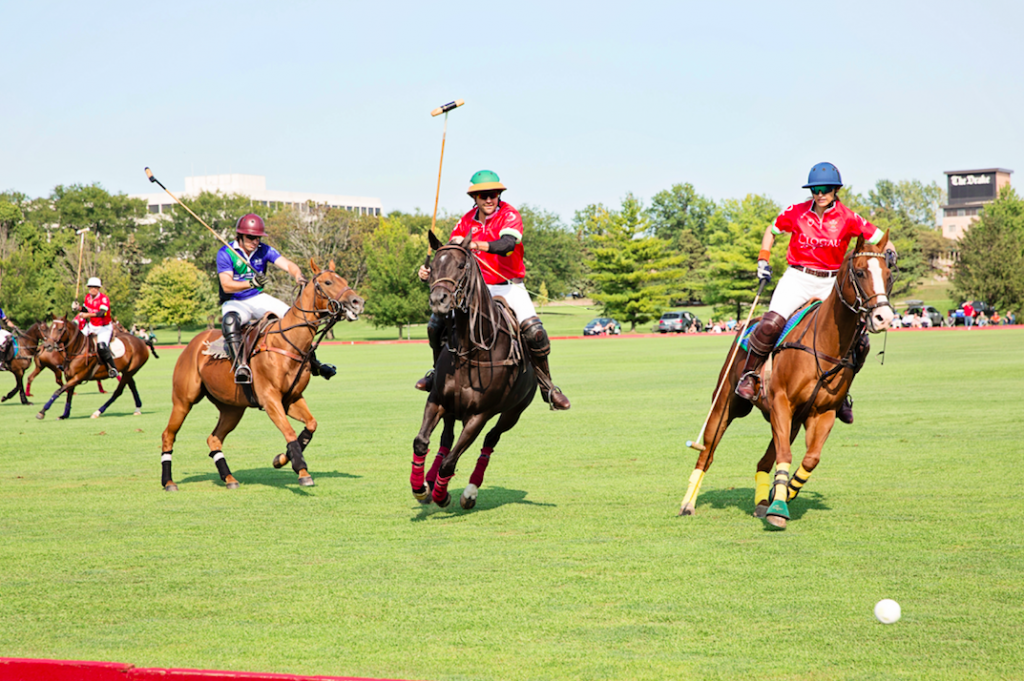 In preparation for the upcoming summer polo season,  Oak Brook Polo Club (OBPC) has renewed its partnership with the Village of Oak Brook and unveils the 2018 schedule which kicks off on Sunday, June 10th at the Prince of Wales Field (2606 York Road), located just 17 miles from downtown Chicago. The match, themed 'Chicago Polo Day', and will celebrate another year of "hockey on horseback."
Oak Brook Polo, which was privatized from the Village of Oak Brook 2016, is led by Chicago business leader, Jim Drury, whose passion and commitment to the sport of polo is what's kept it alive for so many years.
"It is with great privilege that I welcome everyone to experience the magic, pageantry and thrill of polo this season," explains Jim Drury.  "The tradition of Sunday polo at Oak Brook has been one of incomparable fun and excitement, the likes of which you may never have experienced – and will certainly never forget."
Oak Brook Polo Club heads into its 96th season as one of the nation's oldest polo clubs in operation today and the fourth oldest sports property in Chicago.  2018 marks the 40th anniversary since the last U.S. Open Polo ChampionshipÒ which was held at Oak Brook in 1978.
The 2018 schedule includes the return of such popular matches as Horses & Horsepower, Butler Challenge Cup, and Chicago Polo Cup.  Oak Brook Polo will additionally introduce the Heartland Cup -which will host the 2018 Midwest Jaguar Concours d'Elegance, and the Caribbean Cup to the schedule.   The schedule is as follows:
June 10th, Chicago Polo Day / Season Opener
June 24th, Drake Challenge Cup
July 15th, Butler Challenge Cup / Horses and Horsepower
July 22nd, Heartland Cup / Jaguar Concours d'Elegance
August 5th, Caribbean Cup
August 19th, Chicago Polo Cup
September 9th, Butler International Cup
September 22nd, USPA Board of Governors Tournament
September 23rd, USPA U.S. Open Polo Alumni Match
The success of the "International Polo Series" continues with three international fixtures spread across the season including Mexico, Jamaica and Great Britain.  The teams will compete for some of Oak Brook Polo's most revered trophies, including the Drake Challenge Cup and coveted Butler International Cup.
Oak Brook Polo has the continued support of sponsors, some of which will have special events taking place throughout the season. The Drake Oak Brook Hotel will host a pre-match "Sunday Polo Brunch" while Gibson's Bar & Steakhouse will be the preferred destination for post-match entertainment. CutWater Spirits will feature a "best tailgate" contest and Room & Board will outfit the Saddle Club with luxury outdoor furniture. Other new and returning sponsors include; Michigan Avenue Magazine, Veuve Clicquot, Merrill Lynch, Make It Better, Hinsdale Magazine, David Yurman, Land Rover Hinsdale, Barrington Saddlery, Valley Air Services, FIJI Water, BNY Mellon, and many more.
"It is our mission to make polo accessible affordable and memorable for everyone who attends," explains Danny O'Leary, Managing Director of Oak Brook Polo Club.  "Whether you are looking for a fun family activity or get-together with friends, Oak Brook Polo is a 'must add' to your summer bucket list."
All ticket holders will have access to The Drake Oak Brook Hotel bars, which will be serving up Classic Pimm's Chukkers and Veuve Clicquot Champagne, and Gibson's Bar & Steakhouse pop-up restaurant.  Prices are as follows: $10.00 per person for lawn seating; $45.00 per car for tailgating; $40.00 VIP (includes field-site seating in Saddle Club and champagne during divot stomp); $85.00 Brunch and VIP and Saddle Club access; $300 Saddle Club Reserved Tables (seating for up to 8); $300 Saddle Club Box (elevated seating overlooking field for up to 6); $650.00 Private Field Side Tent; $750.00 Saddle Club Skyboxes (for up to 12).
For ticket information, event schedule, parking directions and general information, please visit www.oakbrookpoloclub.com or call 630.368.5095.
---